Top Fibroid Doctors in the Tampa Bay Area
Advanced Imaging and Interventional Institute (AI3) is the first Interventional Outpatient Center for Uterine Fibroids in the Tampa Bay area. AI3 offers a full range of diagnostic imaging and minimally invasive outpatient procedures and is wholly owned and staffed by Board certified and fellowship trained radiologist, Dr. Gerald Niedzwiecki M.D.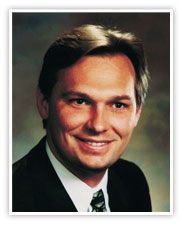 Dr Jerry, as he is known, is one of the FIRST physicians in the state of Florida to offer the UFE procedure. He had a vision to open up an office where he could perform interventional procedures on an outpatient basis. He wanted this setting to be a more home-like setting for his patients, rather than a hospital or doctor's office. He designed the clinical areas to be warm and inviting.
Dr Jerry graduated AOA (top 10% of his class) from The University of Rochester School of Medicine and completed his residency training at The University of Pittsburgh. Prior to opening AI3, Dr Jerry served as President of Mease Hospital Medical Staff from 2002  to 2006.
Dr Jerry was the first physician to offer Uterine Fibroid Embolization in the state of Florida and is the Present Chairman of the Economics Committee SIR. He has been providing a major role in training standards for physicians performing Uterine Artery Embolization for the last 15 years. View this article from August 2000. http://www.sirweb.org/clinical/cpg/S369.pdf
Dr Jerry moved to Florida in 1997 where he and his wife have raised three wonderful girls, two in college and one in high school.
Call 727-386-9981 to schedule a consultation